Ronald E. Sholes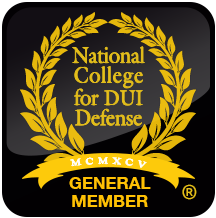 Florida DUI Defense Attorney Ron Sholes has personally handled hundreds of DUI cases ranging from simple misdemeanor to manslaughter. Ron has been an active member of the prestigious National College of DUI Defense (NCDD) for nearly 10 years. Their members represent some of the most experienced DUI defense attorneys in the country and Ron is also a graduate of the program's 2008 Harvard Law School course. Ron has completed the National Highway Traffic Safety Administration (NHTSA) Field Sobriety Certification Course (2005) as well as the NHTSA Field Sobriety Instructor Certification Course (2006), having displayed 100% proficiency in the administration and evaluation of these exercises. Ron ensures that the firm's attorneys know these exercises better than the law enforcement officers who are administering them to our clients, and we do!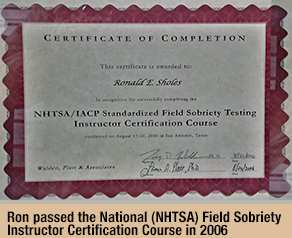 Additionally, Ron has made DUI defense a top priority at the law firm, having as many as four NCDD members at any given time, and numerous attorneys having been professionally trained in the administration and evaluation of Field Sobriety Exercises, breath test machine operation and other facets of the DUI practice area, Ron refers to the firm as being one of the most qualified DUI defense firms in the State of Florida. The Firm's DUI attorneys also regularly attend State and National training and seminars regularly, most recently being the 2015 Florida Association of Criminal Defense Lawyer's (FACDL) Blood Breath and Tears Seminar in Orlando.
Ron is a 10-year military and Gulf War veteran. He is also a lifetime member of the American Legion and Veteran's of Foreign Wars (VFW), associations of service members who served during times of war. He was born and raised in Illinois and raised in a blue collar family, his father being a steel forging worker for nearly all of his life. Ron prides himself on ensuring the firm's clients receive the best possible legal representation under the circumstances and he and the firm's other attorneys are dedicated to vigorously protecting and fighting for the rights of our DUI clients. Every client of the firm also has their attorney's personal cell phone number, as well as Ron's. Personal service and aggressive representation are the two staples which have enabled the firm to grow to over 15 attorneys and a half dozen offices in just the past 10 years. Make sure you visit the "So, Why Hire Us" and "Hire a Qualified DUI Firm" pages of the website before you decide.
Professional Memberships and Associations
Florida Bar Association
American Bar Association
Eighth Judicial Circuit Bar Association
Association of Trial Lawyers of America
National Assocation of Criminal Defense Lawyers (NACDL)
Florida Association of Criminal Defense Lawyers (FACDL)
Member of the Criminal Law Section of the Florida Bar
Member of the Trial Law Section of the Florida Bar
Member of the National Motorists Association
National College of DUI Defense Attorneys www.nccd.com
Florida Association of Criminal Defense Lawyers (FACDL)
Jacksonville Bar Association